Home Decor
Buying Vertical Blinds Online For Your Home And Office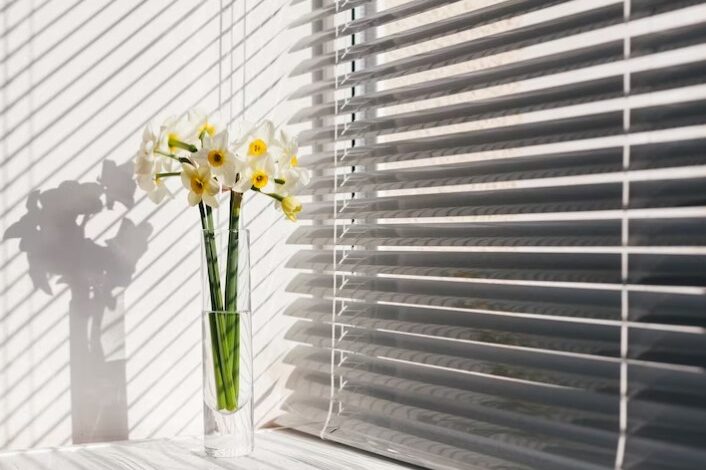 Are you looking for a stylish and practical way to cover your windows? Look no further than vertical blinds! These versatile window treatments are perfect for both homes and offices, offering superior light control and privacy. And the best part? You can buy them online with ease! In this blog post, we'll take a closer look at the different types of vertical blinds available, why they're such a great option for your space, how to order them online, and the benefits of doing so. So sit back, relax, and let's dive into the world of buying vertical blinds online!
The Different Types of Vertical Blinds
Buy online vertical blinds come in a variety of styles to suit any interior design scheme. One popular option is fabric vertical blinds, which are available in numerous colors and patterns to match your décor. These can be an excellent choice if you want to add some texture or softness to the room.
Another type of vertical blind is PVC, also known as vinyl. This material is durable and easy to clean, making it ideal for high-traffic areas like offices and children's playrooms. PVC verticals are typically more affordable than their fabric counterparts, so they're a great option if you're on a budget.
If you're looking for something unique, consider wood or faux wood vertical blinds. These offer a natural look that can complement both traditional and modern spaces alike. Wood blinds are heavier than other materials but provide excellent insulation against heat loss in the winter months.
Sheer vertical blinds have become increasingly popular due to their elegant appearance and light-filtering properties. They work well in living rooms where privacy may not be as much of an issue but filtering out harsh sunlight while still maintaining visibility through the window is crucial.
With all these different types of vertical blinds available online at competitive prices, finding the perfect set for your home or office has never been easier!
Why Buy Vertical Blinds?
If you're looking for window treatments that offer both style and function, then vertical blinds may be the perfect choice for your home or office. Here are some reasons why you should consider buying them:
Firstly, vertical blinds provide excellent light control and privacy as they can be fully adjusted to suit your needs. They're particularly useful in rooms where natural light is abundant or when there's a need to reduce glare on computer screens.
Secondly, they come in various designs and colors to complement any interior decor theme that you have in mind. Vertical blinds also come with different materials such as vinyl, fabric or wood-like options which add warmth and texture to your space.
Thirdly, vertical blinds are easy to maintain since most of them only require dusting or wiping down with a damp cloth. This makes it an ideal option if you don't want to spend too much time cleaning up.
Compared with other types of window treatments like curtains or shades, vertical blinds tend to last longer because they aren't exposed daily wear-and-tear from opening and closing every day. With proper care and maintenance, these window treatments can look great for years!
Purchasing vertical blinds is an investment worth making if you want practicality without sacrificing style!
How to Order Vertical Blinds Online
Ordering vertical blinds online is a convenient and hassle-free way to upgrade the look of your home or office. Here's how you can easily order them online:
First, measure the size of your windows correctly. This ensures that you get the right fit for your blinds.
Next, choose the type of vertical blind that suits your needs and style preferences. You can select from a variety of materials such as vinyl, fabric, wood, or aluminum.
After selecting the material, choose the color or pattern that complements the existing decor in your room.
Most websites offer customization options where you can input specific measurements and preferences for each window.
Once you've made all necessary selections, add them to your cart and proceed to checkout. Be sure to double-check everything before submitting payment information!
Sit back and relax while waiting for delivery! Most companies provide tracking updates so you know exactly when they'll arrive at your doorstep.
Ordering vertical blinds online is an easy process with plenty of options available – no need to leave home!
The Benefits of Buying Vertical Blinds Online
There are several benefits of buying vertical blinds online for your home or office. Firstly, convenience is a major factor. You can browse through different types of vertical blinds from the comfort of your own home and at any time that suits you.
Another advantage is the wider variety available online. You have access to a larger selection of colors, styles, and materials than what may be available in physical stores near you.
Online retailers often offer competitive pricing due to lower overhead costs, allowing you to find high-quality vertical blinds at an affordable price.
Additionally, many online sellers provide detailed product descriptions with measurements and installation instructions making it easy for you to choose the right blind for your needs without having to rely on a salesperson's advice.
Ordering online saves precious time as you don't have to physically visit multiple stores or deal with crowds during peak shopping periods.
Buying vertical blinds online offers significant advantages over traditional brick-and-mortar shopping methods which makes it worth considering when updating or renovating window treatments in your space.
Conclusion
Vertical blinds are a great addition to any home or office. They provide privacy and light control while also enhancing the overall aesthetic of the space. When buying vertical blinds online, it is important to consider the different types available and choose one that suits your specific needs.
Ordering vertical blinds online has many benefits such as convenience, affordability, and customization options. It allows you to compare prices from multiple retailers and find the perfect match for your home or office decor.
By following the tips outlined in this article, you can confidently purchase high-quality vertical blinds online that will add value to your space for years to come. So why wait? Start browsing today!