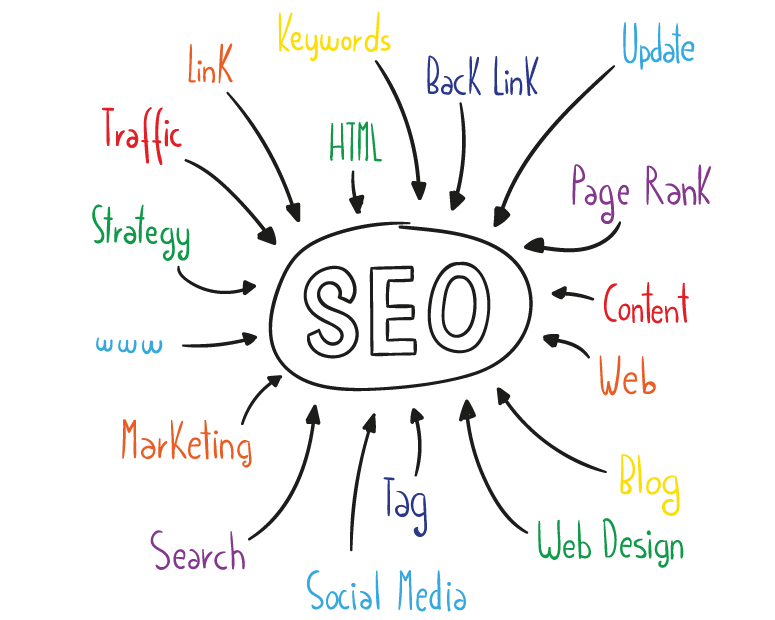 Irrespective of stature, industry, or type, SEO is a must for all businesses keen on establishing a noteworthy online presence. Then what makes enterprise SEO services different from regular SEO? Conventional (and local) SEO strategies best suited for SMEs with a limited scale of operations. But when a business grows, diversifies, and starts functioning at a massive scale, there will be hundreds/thousands of web pages to optimize. Furthermore, the SEO team will have to attend to massive internal and external link-building, compete for highly competitive keywords, organize multiple social media accounts, and cater to a wide range of market segments. 
What are the Benefits of Enterprise SEO Services?
The SEO techniques that benefit SMEs and local businesses are insufficient for the robust online presence and multi-faceted digital objectives of a large corporation. While the fundamentals remain the same, the SEO campaign has to be scaled, upgraded, and enhanced as per the size of the business website and its presence on other digital channels. Collaborating with the best SEO company in India, large corporations can attain the following benefits from top-notch enterprise SEO strategies:-
Targets and Nurtures an Expansive Client Base

Seamless Optimization of Large-Scale Websites

Successful Targeting of Ultra-Competitive Keywords

Proactive Online Reputation Management 

Focus on Automation and Data-Driven Market Disruption

High-Level Inter-Departmental Coordination and Brand Awareness
7 Proven SEO Strategies for Enterprise-Level Growth
Operating at such a vast scale, enterprise SEO is rife with challenges such as keeping an extensive check on scores of web pages and links, monitoring online reviews across hundreds of forums, maintaining online visibility in highly competitive SERPs, and ensuring smooth collaboration between various departments. Simultaneously, enterprise SEO is highly rewarding, with benefits like brand recognition and online revenue generation magnified several times over. Here are 7 noteworthy enterprise SEO strategies:-
Coordinating various marketing channels for uniform branding

– Information-sharing tools can be used by the core team to remain updated about digital marketing initiatives and progress across various channels. This saves time, synchronizes efforts, and streamlines resources in the right direction.

Optimizing for Featured Snippets to gain SERP Prominence– Your webpage being featured in the snippet right on top of Google search results can provide a major boost to your brand credibility. Addressing common consumer queries precisely (100 words or less), yet with utmost clarity using the right keywords on a well-optimized webpage can boost the possibility of the content being featured as a snippet.
Monitoring and Refreshing High-Ranking Pages

– SMEs can afford to be complacent about their high-ranking web pages to some extent. But enterprises don't have this liberty at all. Given the cut-throat competition, the content has to remain updated as per the latest industry trends and search parameters. Yet, making too many changes can affect the ranking. An enterprise SEO specialist knows exactly what to tweak and what to leave intact here.

Multi-Faceted Content Creation and Syndication

– The more diverse and engaging the content, the more lucrative the content marketing ROI for large-scale businesses. Based on the requirements of the target audience and the purchase cycle, high-quality blogs, FAQs, videos, podcasts, purchase guides, and gated content should be created and distributed across multiple channels with relevant viewership.

Deploying AI for voluminous SEO operations-

When large-scale SEO strategies have to be implemented, it is far more efficient for AI and data analytics. Particularly in areas like keyword research, backlink quality tracking, and website maintenance, automation is quicker and more efficient than manual output. 

Incorporating Voice Search Optimization

– With the rising use of smartphones and the popularity of digital assistants, voice search has become a significant component of online searches. Small-scale SEO can forego optimization for voice-centric keywords. But owing to the intense competition, enterprises have to remain on their toes to optimize for voice search users. 

Utilizing the Right Enterprise SEO Tools

– From content optimization software like Market Muse to SEO scaling tools like Searchmetrics, corporations will greatly benefit from using specialized enterprise SEO tools.
Conclusion
From extensively researching your brand and industry, auditing your website, and analysing competition, to create a bespoke enterprise SEO plan, fostering thought leadership content marketing, and holistically measuring growth, a qualified enterprise SEO partner can suitably assist your business with a high-stature online presence, high industry authority, and a vibrant brand image. Compared to newspaper ads, billboards, TV ads, and other large-scale branding strategies, enterprise SEO yields higher and measurable ROI with far lesser investment.